GoldFocus Plus Collimation Focusing System
The GoldFocus Plus Collimation Focusing System supports precision focus and collimation.
The GoldFocus Plus Focusing System for digital astronomical imaging is a combination of a scientifically designed GoldFocus Plus Mask and the GoldFocus Analysis Software. The GoldFocus Plus Focusing System works with most astronomical CCD cameras and over 400 DSLR camera models.
Achieve better focus and collimation faster than ever.
"I used to think that I had accurate collimation of my AT8RC using the 'defocused star/concentric ring' test. But after using GoldFocus Plus, collimation is tack sharp and has never been this good. GoldFocus Plus is the reason for it. I will definitely be using GoldFocus Plus to collimate in the future." -- Joel Short
GoldFocus Plus Features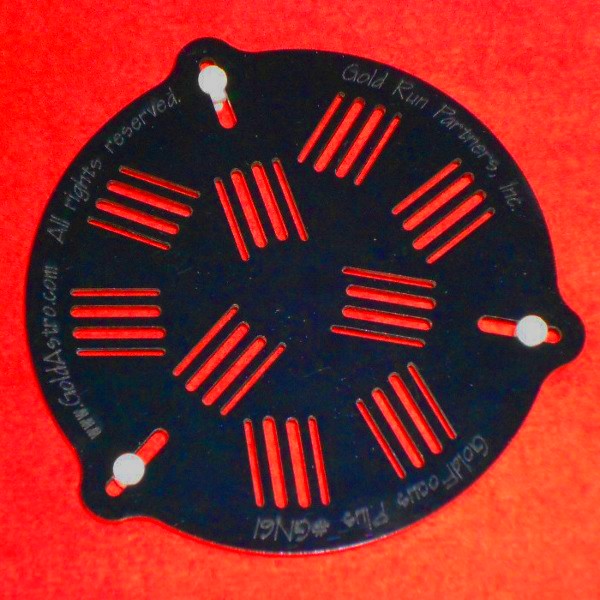 more accurate collimation

than other collimation methods (see also collimation techniques)

more accurate focus

than other focusing methods, 3-5 times more accurate than alternative focusing methods (see also focus techniques and signal-to-noise)

very fast focus and collimation

, only minutes to near-perfect focus and collimation with a good quality focuser (see also how GoldFocus works)

easy to use

, very short learning curve
unbiased and accurate

objective quantitative focus and collimation measurements

auto-focus

for power focusers using the ASCOM interface

scientific design

based upon advanced

theories of optics

(see also technical background)
optional Step-by-Step QuickStart for

best focus and collimation the first time

you use GoldFocus Plus
optional

voice feedback

of focus quality

night-vision

friendly

3 separate designs

accommodate Cassegrain, Newtonian, and refractor telescopes

standard sizes

accommodate most typical telescopes

custom sizes

available upon request
comprehensive

help documentation

and

on-line FAQ

unlimited

free technical support
Works With ...
most digital cameras including

scientific CCD and DSLR

cameras
all telescopes including

refractor, reflector, and catadioptric

designs
typical

aperture diameters, f/ratios, and focal lengths

all focusers including

rack and pinion, Crayford, integrated, and electronic motorized

monochrome and color digital cameras

capable of saving FITS, JPEG, TIFF, or raw DSLR file format images
wide range of

camera physical pixel sizes

with or without

pixel binning

full range of wavelengths

of visible light
narrowband wavelengths with

color and narrowband imaging filters

normal

seeing conditions

, poor to excellent
Requirements
astronomical CCD or DSLR camera with

image capture software capable of saving FITS, JPEG, TIFF, or raw DSLR file format images is required

GoldFocus Plus Mask can be used without the GoldFocus Analysis Software

for visual observing or film photography

(see also FAQ)

PC with Windows operating system

, versions 2000 Professional, XP, Vista, Windows 7, 8, 8.1, or 10
More Information